Following approval by the Church Authories, a new memorial plaque in Bickleigh Church remembers the tragic loss of life of Leonard Vowler age 21 within weeks of the end of the Second World War. Leonard's family lived at nearby Church Green where his father was the village Blacksmith. Leonard, under age, enlisted unbeknown to his parents who would have prevented him leaving. He collected any post before it reached the house and took care to hide his uniform from them. In March 1945 his plane was shot down over Germany.
His nephew, Rodney Vowler, has researched Leonard's war service, visited the site where he died and worked to achieve recognition for his uncle.
It is intended that a commemoration event for Leonard will be held at the Armistice Service in November 2021.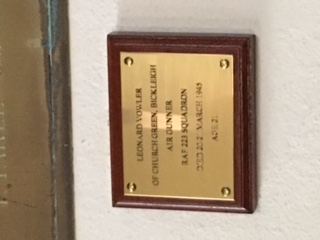 Leonard Vowler Plaque, Bickleigh Church
Other news